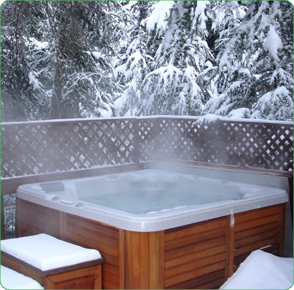 Winter Hot Tub Tips
Keep your hot tub cover on at all times to retain heat.
Clear the snow from your hot tub cover. To make this easy place a tarp on your hot tub cover for quick and easy snow removal.
Don't touch anything metal on the way from the hot tub to the chalet.
Put towels in a dryer for 15 minutes before you get into the hot tub. Then store them in a place them in closed container until you are ready to use them.
Test your water regularly for pH and bromine/chlorine levels.
Big White Spa Services
Always Clean – Always Running!